New Film Shows How Gordon Parks's Incisive Pictures of Racism Influenced Generations of Artists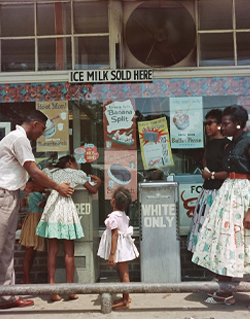 Gordon Parks's 1956 photograph of a Black woman and her child beneath a department store sign that reads COLORED ENTRANCE is famous for a reason. It is an elegant image, with a zigzag composition that carefully directs the eye, and yet it is also a painful one because it finds a way of rendering the structural racism of the American South so visibly. Viewers might find themselves wanting to stare at this photograph forever because of its lush color; they also feel as if they want to look away immediately because its subject matter is so appalling. One detail in this searing picture often gets overlooked: the woman's slip, a strap from which dangles down her arm, puncturing her stately appearance.
New York's Callicoon Fine Arts to Close
Respected New York gallery Callicoon Fine Arts has announced that it will shutter following the July 17 close of its last show. The news was revealed yesterday on the gallery's Instagram. Callicoon Fine Arts was founded in 2009 above a pizza shop in the tiny town of Callicoon, New York, by Bronx native Photios Giovanos. The gallery's hours were originally limited to the weekend, as Giovanos maintained his day job in the city at the storied Metro Pictures, which in March announced its own year-end closing following more than forty years in business.
New national archive will memorialize a beloved TV genre
When record-setting "Jeopardy!" champion Ken Jennings first guest-hosted the show after Alex Trebek's death, he had a good-luck charm in his pocket: a ticket from the 1983 debut episode of the current version of the show. It was a gift from Bob Boden, a veteran producer of game shows such as "Funny You Should Ask" and an avid collector of game show memorabilia. Boden said he hosted some "Jeopardy!" champions at his house late last year and gave each of them one of these tickets. He has thousands of tickets from various contests in his vast collection of game show artifacts.
As Money Launderers Buy Dalís, U.S. Looks at Lifting the Veil on Art Sales
The federal agents who raided a drug dealer's house in a suburb of Philadelphia found marijuana and, to their surprise, $2.5 million in cash stashed in a secret compartment beneath a fish tank. But they were even more surprised to discover so much art — 14 paintings on the walls and another 33 stacked in a storage unit a few miles away from the home of the dealer, Ronald Belciano. The artists included Renoir, Picasso and Salvador Dalí.
Artist of the Month: BASH ORIGINALS
Sebastian Ferreira is an artist/painter based out of Edgewater, NJ. Born in Caracas, Venezuela, he grew up in Miami, FL with a passion for writing and lettering. He always took pride in his penmanship until he discovered graffiti in the streets. His artwork is currently an amalgamation of pop, abstract, and calligraphy. "I like to write my stories into my pieces, My portraits have a very morose and melancholic vibe to them." He is heavily influenced by greats like Warhol, Kline, Retna, Soulages, Francoise Nielly, Cy Twombly, and more obscurely, Lester Johnson.
CONSIGNMENT
Rocart is seeking to receive on consignment secondary market Fine Art works of all media. We are pleased to offer an appraisal to collectors who are considering selling their artworks with our gallery.
Contact Us
Want to change how you receive these emails?
You can update your preferences or unsubscribe from this list.